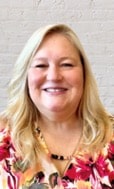 Ruth C. Wilson, LPC, CAS
Ruth Wilson has a passion for helping clients dealing with anxiety, depression, and fear using evidence-based practices. Her work at Stokan Jaggers and Associates emphasizes a focus on life's challenges to enable growth.
Her approach is collaborative, empowering, transformational and empathetic. She has a passion for helping clients cope with life's road bumps and empowering them to move forward. She assists clients in understanding who they are and helping them get to where they want to be in life. She helps clients discover their inner strengths and work towards conquering the barriers that exist between them and their goals. Importantly, she helps clients cultivate self-compassion and regain control of life.
Ruth began her career over 30 years ago, first in special education services and later focusing on students with autism and other intellectual and developmental disabilities. Since the diagnosis of one of her sons with autism, she has made it her life's goal to educate the public on neurodiversity. She is a Certified Autism Specialist (CAS) as well as a Licensed Clinical Professional Counselor (LPC).
For more information about Ruth Wilson and Katy Counseling & Educational Solutions, visit: https://katycounselingeducationalsolutions.com
Be empowered and learn how to successfully navigate through divorce to a healthier and happier life.